Diamonds and Pearls Ladies Gathering
September 27th - 29th, 2018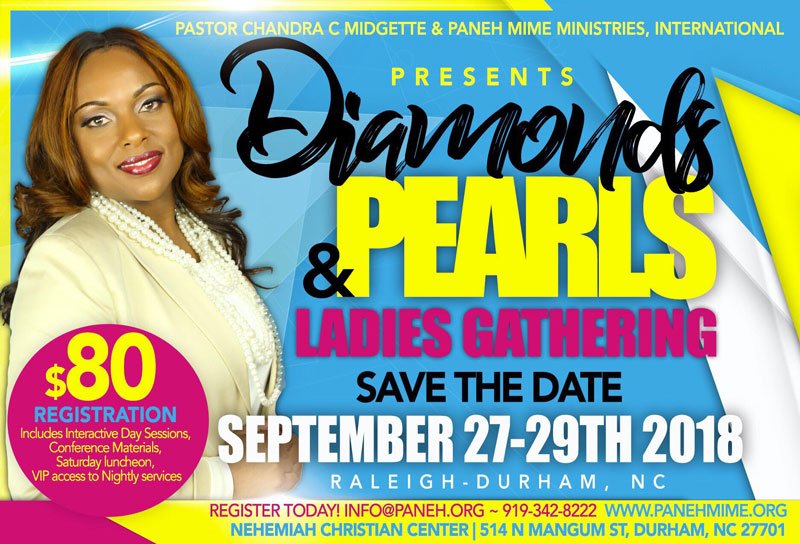 Join Us for the Diamonds and Pearls Gathering!
Includes Interactive Day Sessions, Conference Materials,
Saturday Luncheon, and VIP Access to Nightly Services.
Conference Forms
Download Your Forms Below…
[gravityform id="1″ title="false" description="false"]
For our out of state guests, we have provided a list of suggested hotels that are close to Nehemiah Christian Center
HOST LOCATION:
Nehemiah Christian Center
514 N Mangum St, Durham NC 27701
September 27th-29th, 2018
NEAREST AIRPORT:
RDU – Raleigh Durham International

1108 W Main St,
Durham, NC 27701
Phone: (919) 680-4440
www.residenceinn.com
Additional Information
Agenda:
Thursday, September 27th – 6:00pm

Kickoff sessions, Light Refreshments will be provided

Friday, September 28th Morning Sessions

Sessions will be held from 9:00am – 3pm
Lunch On Your Own
Retreat-feel, interactive, empowering sessions, Registered ladies only session

Friday, September 28th Day & Afternoon Sessions

6:30pm Registered participants Meet & Greet (light refreshments)
7:30pm Empowerment Service is open to the general public – men & women
Teens & Youth are also welcome.
Feel free to dress up or come casual! It's all up to you!

Saturday Empower U Sessions

Sessions begins promptly at 8:30am
Purchase your optional D&P Tshirt! $15 sizes s-xl; $20 for 2xl and up. 
Last day to purchase tshirt is September 9.
Teens – Special Teen Session will be available for $10 per teen
Adults – One Day Empower U Registration $35
Light Lunch will be provided
Registration Payments
Cost of registration is $80.
Please register by September 13th so that we can have an accurate headcount.  However, we will be accepting late registration up until the Gathering!
What to Bring:
Purchase 1 card for a sister you don't know. Pray over that card and write an encouraging word to a sister you don't know….
Purchase 1 gift for a sister you don't know. Pray over that gift that will be presented to a sister you don't know.

(value $15-$20) examples bath and body works, journals, devotional books, CD, accessories, picture frames or whatever God directs you to purchase for another sister)
Please bring your gift on Friday
Comfortable attire for all sessions. Optional dress up night for Friday night service
Completed Liability Form
Bible, Snacks
If you have any additional questions, please feel free contact us at info@paneh.org or 919-342-8222
God bless you!
Pastor Chandra C. Midgette